Simply Nicollette reviews - books, movies, television shows, etc. with slight spoilers. I try my best to review without giving away too much of the story.
In my last
'Book Spotlight'
I talked about how much I've been reading sci-fi and fantasy stories, well it was time to take a little break from those intense adventures and read some contemporary books instead.
Hello?
by Liza Wiemer fell into my lap last week, and I'm beyond happy that it did.
Hello? perfectly captures the raw emotions of how it feels to deal with all of our struggles in our lives, from losing someone to leaving a relationship to facing our worst nightmares, all in the hopes to move on. I haven't felt such a deep connection with a book since I last read
All the Bright Places
, and we all know how I feel about that book. This story tackles a lot of tough situations, such as dealing with suicidal thoughts, and it will bring you all the feels. Hello? truly helped me, and I honestly wish I had this book while I was growing up as a teenager struggling with depression/anxiety.
Tricia: A girl struggling to find her way after her beloved grandma's death.
Emerson: A guy who lives his life to fulfill promises, real and hypothetical.
Angie: A girl with secrets she can only express through poetry.
Brenda: An actress and screenplay writer afraid to confront her past.
Brian: A potter who sets aside his life for Tricia, to the detriment of both.
Linked and transformed by one phone call, Hello? weaves together these five Wisconsin teens' stories into a compelling narrative of friendship and family, loss and love, heartbreak and healing, serendipity, and ultimately hope.
Told from all five viewpoints: narration (Tricia), narration (Emerson), free verse poetry (Angie), screenplay format (Brenda), narration and drawings (Brian).
"If you forget the past, you're doomed to repeat it.
I can't and won't forget my past."
Guys, it's hard for me to find the right words to explain to you how much I love this book.
The story was so unique - full of heartbreak and hope all at the same time.
It is a little slow paced, I mean the book only takes place within a week. I enjoyed this though - usually it becomes boring, especially when you hit the middle of the story and it begins to drag everything out.. but that was not the case in Hello?. The slow pace allows us to get to know our characters on a deeper level, and they are the most important part of this whole book.
There are five different POVs in Hello? - Tricia, Emerson, Brenda, Angie, and Brian.
We find each of these characters in a different point in their lives at the beginning of the story, and I was immediately drawn into each of their individual plots. The characters in this story are unique in their own way, and I found myself rooting for each of them.
Even though they were each inspiring in their own right, I was drawn to Tricia the most because like myself she was dealing with not only loss, but depression as well. As someone who dealt with depression as a teenager - I was intrigued while reading the real emotions of Tricia, and how she deals with everything in her life while suffering from this heartbreak and loss. It was such an honest point of view for me, and I think if I dealt with the struggles that the other characters dealt with then it would be just as honest as Tricia's point of view.
As the story continues, we see these characters develop in such a special way.
They have to make hard decisions - and sometimes they aren't the right ones, but sometimes they are.
Each of them end up exactly where you hope they would end up and it leaves you completely emotional. You are full of hope, heartache, unease, and love.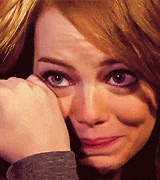 I'm usually apprehensive about having so many different POVs - but Liza Wiemer's writing is so beautiful, and done so well that it worked for Hello?. The character's lives weave together throughout the whole story, and each individual plot point only helps move the whole story along more. This never becomes confusing, and it never made me want to skim through a certain character's chapter - which is a huge plus! I was intrigued the whole time.
Hello? deals with a lot, like I said earlier, and Wiemer actually wrote a letter to all of her readers at the end leaving information to anyone who may need it. I thought that made the book extra special.
There is so much hope, love, and strength throughout this story.
It's hard to explain how that can be unless you read it yourself. It's beautiful to see how much inspiration and heart was put into this story. I hope when people finally get to read this story they find the power in Wiemer's words. I hope they see how powerful human connection is, and find a bit of themselves in this book. I don't think it matters if you've been in these character's shoes or not - if you've been lost or unsure of your future in any way then I truly believe this story will help you find a bit of yourself.
Overall, I loved Hello? - if you couldn't already tell.
It's one of my favorite contemporary releases of 2015.
The raw emotions, and the beautiful writing is more than enough for you to check this book out! I recommend this book to everyone who enjoys a good contemporary novel. It's full of love, friendship, and hope!
Hello?
will be published on November 10th.
Make sure you go check it out and fall in love with this beautiful story!
RATING:
xxo